Hardest Working Comedians 2017
Gary Delaney has been announced as Britain's Hardest Working Comedian of 2017, in data analysed by Ents24.
The acclaimed one-liner comic topped the list, with Patrick Monahan in second and Andy Parsons third. The full list is below.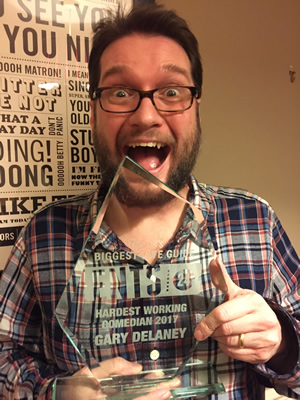 Delaney, who recently announced a new 2018 and 2019 tour said of coming top of the list: "When I first started in comedy one of the old hands explained to me that 'The job is really driving, the gig is just what you do for a break when you get there'. They were right. Being on the road is great because you get to bring your comedy to your audience every night and also because eating most of my meals at service stations gives me the perfect excuse to eat all the things that I really want to eat anyway.
"I've been in the top 5 for the last couple of years so it's been my dream to finally make number 1 and empirically prove to my parents that I have a real job. Actually my dream is to get sponsored by KFC and Waze, but this is a close second.
"I hope to hold onto this award next year when I take my new tour show Gagster's Paradise on the road, though some who have seen the passenger footwell of my car have rudely suggested Ginster's Paradise might be more appropriate.
"I want to use my new title to help promote world peace, or failing that at least put pressure on the Department of Transport to make available a comprehensive list of which motorways are closed each night."
The listings website Ents24 determined its top 20 list by looking at the highest number of listed performances for comedians at different venues across the calendar year. It should be noted the data only concerns tours and listed club nights, not other work such as TV appearances or regular shows in the same venue.
Ents24's Top 20 Hardest Working Comedians 2017
1. Gary Delaney
2. Patrick Monahan
3. Andy Parsons
4. Justin Moorhouse
5. Jimmy Carr
6. Joel Dommett
7. Omid Djalili
8. Tom Allen
9. Lee Nelson
10. Jon Richardson
11. Phill Jupitus
12. Jarred Christmas
13. Richard Herring
14. Tom Stade
15. Mark Thomas
16. Sara Pascoe
17. Abi Roberts
18. Rich Hall
19. John Hastings
20. Mike Gunn
This is the third year that Ents24 has undertaken its study. Patrick Monahan topped the list in 2015, whilst Romesh Ranganathan came out top last year.
Omid Djalili said of his inclusion this year: "You want a quote about being a busy comedian? Ain't nobody got time f'dat!"
Abi Roberts said: "Wow, I had no idea I was in the top 20 hardest-working comedians in the UK! Performing live is what I love best, getting that instant audience connection and feedback and the thrill of the live audience. It makes a real difference to me when someone comes up to me after a gig and says 'I've had a crap week and you really made me forget all about it'. I'm a comedian first and a woman second."
John Hastings commented: "Hell Yeah! 19th is the best right? I do this job to win. You have made me a winner!"
Mike Gunn said: "I'm very proud to have been voted the least most hard working comedian. It's a great list to be bottom of."
Share this page